With our rich agricultural heritage, you will find that "farm to table" is a mantra shared by many of our local eateries.

One-room cabins in the woods or 5-star resorts, we have a variety of lodging options to accommodate any trip. 
Whether it's boating on our lakes or shredding fresh powder on our ski hills, you'll find the fun you are looking for.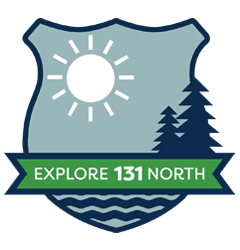 Celebrate in the best in Michigan craft brews, cider, wine, spirits, live music & games at the new Cadillac Commons in Downtown Cadillac.
This October experience the autumn foliage of Northern Michigan in style with our annual Fall Color Tours through the Steam Railroading Institute. Enjoy excursions up and down the entire 131 North corridor!
Annual deer hunting contest, pay $5 and bring your buck!
Numerous cash and prize packages as well as a community raffle, bonfire, food & fun!
All-Season Adventures Along the Corridor
Plan Your Escape Up North 
"It is good to have an end to journey toward;
but it is the journey that matters, in the end."
— Ernest Hemingway
*Legendary resident of Walloon Lake*
Request Your Travel Information